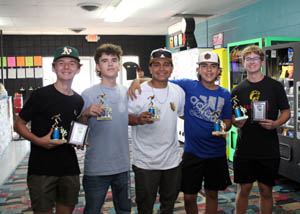 Atwater High School agriculture students Ayden Silveira, Kaleb Shannon, Alfonso Gomez, Zachary Shannon, and Evan Goucher celebrate their 3rd place team finish at the FFA bowling tournament.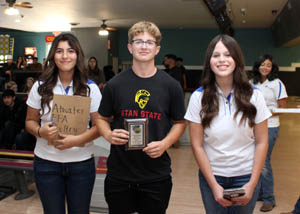 Atwater FFA member Evan Goucher (center) is presented the "I'm Just happy To Be Here" award by Atwater FFA officers Alany Guzman and Alexa Bracamontes.
Atwater FFA Members Have A Ball During Recent Meeting!
Written by: Jacky Velazquez – Chapter FFA Reporter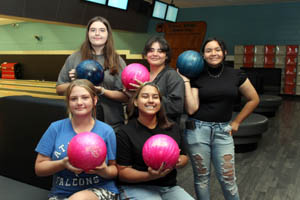 Atwater High School agriculture students Rosemary Trindade, Marissa Silva, Emily Brazil, Destiny Perez, and Evelyn Correa-Montoya joined in on the Atwater FFA meeting and tournament held at Bellevue Bowl.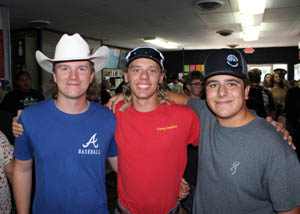 Atwater High School FFA members Alden Hansard, Caden Hultgren, and Nic Presto enjoyed the opportunity to join over two hundred other FFA members at Bellevue Bowl for the annual bowling tournament and FFA meeting.